Pictured: Dr Patrick Prendergast, Prof Maeve Lowery, Mr Declan Sheehan, Prof John Kennedy, Ms Mary Day, An Taoiseach, Micheál Martin TD.
3 June, 2021
An Taoiseach Micheál Martin announced today that the Trinity St James's Cancer Institute, jointly operated by Trinity College Dublin and St James's Hospital, has named Professor Maeve Lowery and Professor John Kennedy as joint directors of the institute.
Professor Lowery is Professor of Translational Cancer Medicine at Trinity College Dublin and Consultant Medical Oncologist at St James Hospital. She is a clinical and translational researcher specialising in gastrointestinal oncology who returned to Ireland in 2017 from Memorial Sloan Kettering Cancer Center, New York.
Professor Kennedy is a consultant medical oncologist in St James's Hospital and St Luke's Hospital, Dublin specialising in breast cancer. In 2016 he became clinical professor of oncology at Trinity College Dublin. He chaired the Cancer Strategy Steering Group that developed Ireland's National Cancer Strategy 2017-2026 focusing on the following goals: reducing cancer burden; provision of optimal care; whilst maximising patient involvement with the aim of improving their quality of life.
Professors Lowery and Kennedy will take over from Professor Paul Browne who led the institute to international accreditation last year.
The appointments mark a further step in the plans of the Trinity St James's Cancer Institute to harness its world class academic and clinical expertise to enhance the development of new treatments, diagnostics and prevention strategies in a dedicated cancer institute.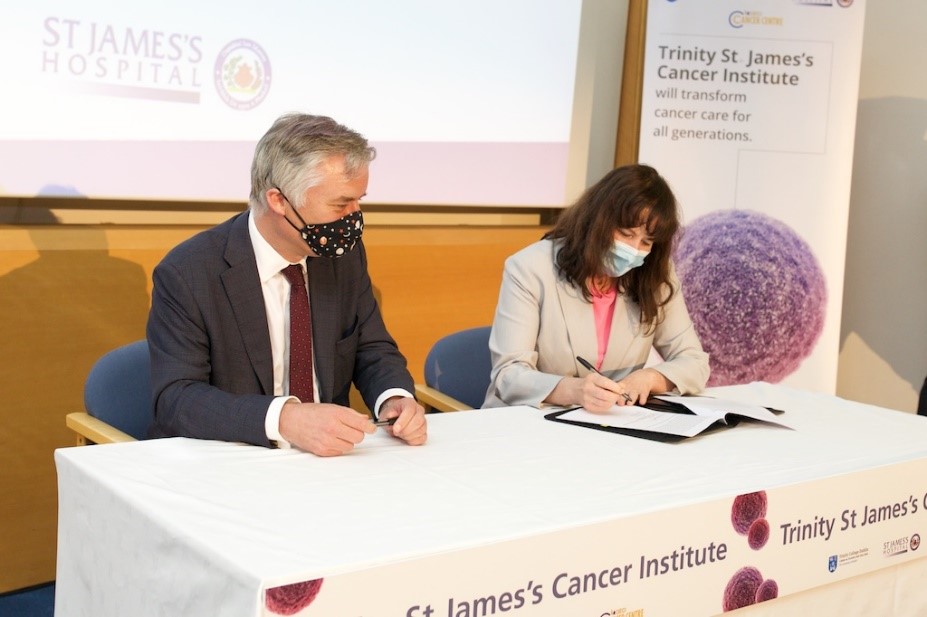 Dr Patrick Prendergast, Ms Mary Day
Earlier today, Trinity Provost Patrick Prendergast and St James's Hospital chief executive Mary Day, signed a new memorandum of understanding to deepen the links between the country's largest hospital and highest-ranked university.
Trinity medical alumnus and philanthropist Dr Stanley Quek announced today that is he donating €5 million towards the institute. His gift will support the establishment of the Patrick Prendergast Professor of Clinical ImmunoOncology. Dr Quek is a Pro-Chancellor in Trinity and a businessman with interests in Ireland and Singapore.
The long-term ambition of the Trinity St James's Cancer Institute is to become a fully Comprehensive Cancer Centre with outstanding treatment for patients, wide-ranging educational programmes and cutting edge research in areas such as cancer molecular diagnostics, genomics and translational immune-oncology.
Evidence shows that the best outcomes for patients are achieved in centres of excellence, where evidence based cancer care is developed combining scientific and technological advances. World class research supports innovation and the development of innovative cancer therapies through the mechanism of cancer clinical trials; impacting positively on patient experiences and outcomes.
A joint fundraising programme has commenced which will support the resources and capital infrastructure required to provide a dedicated facility.
This dedicated state of the art facility will be designed to integrate ambulatory and inpatient departments, improve multidisciplinary service delivery, and expand the range of services available to patients, including enhanced personalised medicine.
Micheál Martin TD, An Taoiseach, said:
"The improvements made in recent years in cancer prevention, early diagnosis, treatment and post-treatment supports have led to better outcomes for those living with and beyond the cancer diagnosis in Ireland. Innovative partnerships such as the Trinity St James' s Cancer Institute will ensure that outcomes for patients continue to improve for patients through a combination of research, education and access to clinical trials.
"The Government is strongly committed to the continued improvement of cancer care in Ireland, notwithstanding the disruption and challenges presented by the COVID-19 pandemic. We have allocated €12m in Budget 2021, for the restoration of cancer services in the context of the pandemic. On top of that, an extra €20m has been allocated for the continued implementation of the National Cancer Strategy this year. Funding in 2021 will progress ongoing initiatives and drive improvements across all stages of the cancer continuum."
Dr Patrick Prendergast, Provost, Trinity College Dublin, said:
"Both Trinity and St James's have worked hard over many years to get this project to this point. The appointment of new directors and signing of a memorandum of understanding is a red letter day for the institute which recently became the first in Ireland to receive international accreditation. The Trinity St James's Cancer Institute is now well placed to become the country's first Comprehensive Cancer Centre, directly improving the experiences and outcomes for cancer patients in Ireland and beyond. The new governance structures will allow us to build upon a relationship that already stretches back decades."
Mary Day, CEO, St James's Hospital, said:
"The Trinity St James's Cancer Institute is reaching another milestone today in its journey to become Ireland's first comprehensive cancer centre. The establishment of a comprehensive cancer centre is firmly embedded in national policy and will meet the objectives and aims of a range of government strategies. The Trinity St James's Cancer Institute is a centre of excellence for the delivery of cancer care, accommodating the largest medical oncology programme and is recognised internationally as a leading research centre for cancer. The Trinity St James's Cancer Institute will be located in a purpose built, state-of-the-art building on the St James's healthcare campus, providing world class care to patients by combining research, clinical trials, education and patient-centred clinical care."
Dr Stanley Quek, Philanthropist and Pro-Chancellor, Trinity College Dublin said:
"The Trinity St James's Cancer Institute is one of the major initiatives of the Inspiring Generations campaign and it struck me as a project I could identify with as there is so much one can do to support pioneering cancer research, the translation of scientific discovery to patient treatments, and the training of the next generation of clinical and scientific leaders in the care of cancer patients."
Media Contacts:
Ciara O'Shea, Media Relations Officer | coshea9@tcd.ie| + 353 1 896 4337
Caoimhe Nic Allabroin, Head of Communications |cnicallabroin@stjames.ie| + 353 1 410 3002