The DAISY Award for Extraordinary Nurses Nomination Form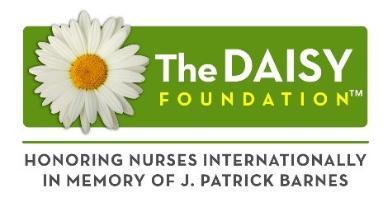 The DAISY Award is an international recognition programme started in memory of J. Patrick Barnes who died of complications of the auto-immune disease Idiopathic Thrombocytopenia Purpura (ITP) at the age of 33. (DAISY is an acronym for diseases attacking the immune system). Patrick's family experienced first-hand the difference his nurses made in his care through clinical excellence and outstanding compassionate care. The family created the DAISY Award to express gratitude to nurses and to enable other patient, families, and staff to thank and honour their special nurses.
St. James's Hospital is delighted to be a DAISY Award partner to recognise the wonderful nurses in our organisation. Please visit DAISYFoundation.org to learn more about how The DAISY Award recognises Extraordinary Nurses.
Each DAISY Award honouree will be recognised on her/his/their unit and will receive a certificate, a DAISY Award pin, a thank you card from our Director of Nursing; Sharon Slattery, and a hand-carved stone sculpture entitled A Healer's Touch. The team will celebrate with cinnamon rolls (a favourite of Patrick's during his illness).
The BEE Award for Extraordinary HCAs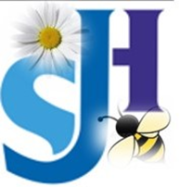 Being Extraordinary Everyday (BEE) Awards recognise and value our Healthcare Assistants (HCA). These awards run in conjunction with DAISY.
Just like a daisy flower cannot survive without a bee, nurses rely on the outstanding teamwork of our HCA colleagues when caring for patients. The BEE award recipients exemplify quality service and extraordinary care to the patients and their families creating a great experience by promoting wellness, kindness and going above and beyond.
To nominate a Nurse or a HCA please complete the form below, nominations can come from SJH staff, patients and their families/friends/carers
Each winner will be celebrated, get a certificate, an award pin, a thank you card and a gift presented to them by the Director of Nursing.